Business Checking
Choosing a business checking account should not be a complicated process, so we've made it easy. Select the option that works for you.
Business Checking | Business Debit Cards | Mastercard Easy Savings
Business Checking Products
BusinessFREE Checking
For accounts with less than 50 checks paid


BusinessPLUS Checking
For accounts with a minimum balance of $2,500 and less than 100 checks paid


BusinessANALYSIS Checking
Monthly fee based on number of items processed through account


Conditions and fees may apply.
Business Accounts and Eligibility
IU Credit Union offers business services to all business types:
Sole proprietorships
Partnerships
Corporations
Non-profit organizations
Limited liability companies
Any of these business types that are in IU Credit Union's field of membership are eligible to enjoy the benefits of our Business Services.
Business Debit Cards
Use your IU Credit Union debit card to make purchases at millions of locations that accept Mastercard®. It's convenient and faster than writing a check.
The debit card also works as an ATM card and is accepted at all PULSE®, Cirrus, and CO-OP Network ATMs. As long as there are sufficient funds to cover the withdrawal amount, there is no fee when using an IU Credit Union-owned, Alliance One or CO-OP ATM.
Transactions are itemized on your monthly statement.
MasterCard® Business Debit Card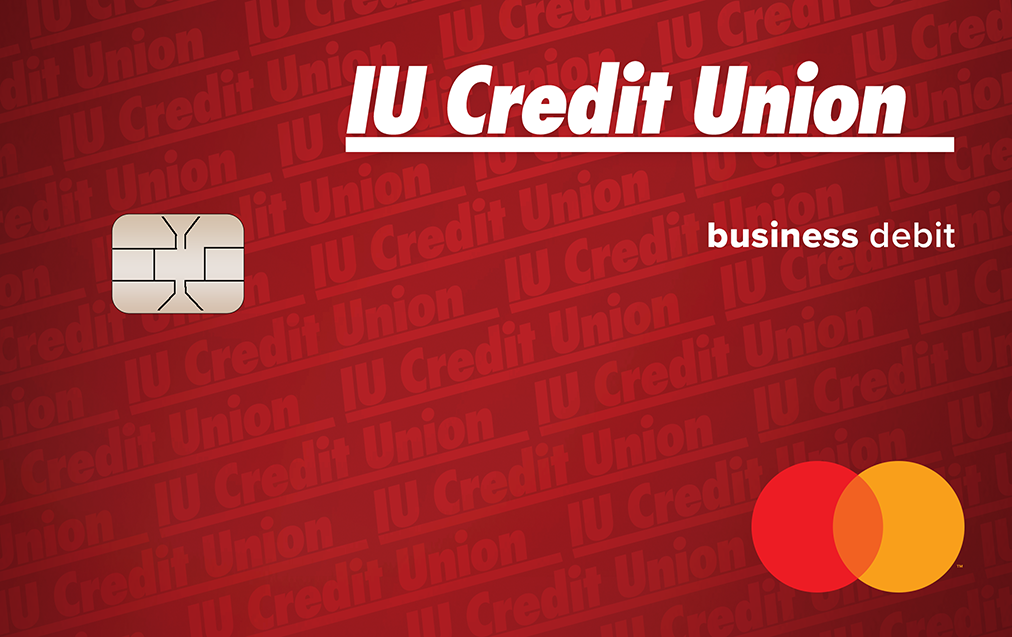 Mastercard Benefits
Click here to see the Mastercard Business Debit Card Guide to Benefits.
Card Benefits
Zero Liability


Protects you if your card is used for purchases without your permission; for details visit www.mastercard.com/zeroliability.
MasterRental® Insurance


This coverage can provide reimbursement for physical damage to or theft of a rental vehicle.
Intuit QuickBooks® Online Discount


Mastercard cardholders can sign up for a 30-day free trial and save up to 50% on QuickBooks online products.
Intuit TurboTax® Discount


Mastercard cardholders can save up to $20 on TurboTax federal products.
Mastercard Mobile Receipt Management


Business owners and employees can snap photos of receipts to store them securely in the cloud.
Additional Benefits
Mobile Wallet (Apple, Google and Samsung Pay)
Mastercard ID Check (3DS)


An added layer of protection for online purchasing. Cardholder automatically enrolled.
Customary Daily Withdrawal Limits*:
$500 through ATM; $2,000 point of sale
*Lower limits may apply during system upgrades and/or outages.
To activate card (must call from primary phone), call 888-691-8661; outside the US 515-457-2085
To establish or change your PIN, call 888-891-2435; Outside U.S.; 812-855-7823

To report lost or stolen Mastercard Debit Cards during business hours, call 812-855-7823 or toll-free 888-855-6928.
We monitor and notify you of unusual activity and protect you from debit card fraud. Fraud Network 866-518-0213, Outside U.S. 515-457-2095.
Saving for your business has never been easier with the Mastercard Easy Savings program
Mastercard Easy Savings is an automatic rebate program that enables participating merchants to provide rebates to eligible Mastercard small business debit and credit cardholders registered in the program.
Mastercard Easy Savings requires no coupons or codes.
With the Mastercard Easy Savings program you can save on all types of every day expenses. Just use your enrolled IUCU Mastercard business debit or credit card on qualified purchases at any participating merchant and your rebates will be automatically applied to your account.
For additional information, click here to visit the Mastercard website.
Take the First Step
To open a Business Checking account, visit any branch.
If you have questions about these services, please call 812-855-7823, toll free 888-855-MYCU (6928) or email memberservice@iucu.org.