Keep up with happenings at IU Credit Union.
A Message from the President
We are pleased to report that 2018 was another outstanding year for the IU Credit Union. Thanks to the ongoing support and loyalty of our members and dedicated staff, a number of significant results were achieved.
In 2018 we enhanced our mortgage loan offerings, specifically for first-time homebuyers, with the launch of FHA loans and other low down payment programs. Other notable achievements include implementation of a knowledge management system to better serve our membership, and a credit card processor conversion.
IU Credit Union is an active partner in the communities we serve and we are proud to annually provide more than $250,000 in sponsorships and financial contributions. Through our scholarship program we awarded more than $30,000 of financial assistance to college students. IU Credit Union and its employees again contributed $40,000 to the local United Way Campaign and received the Community Builder Award in recognition of our ongoing support.
We thank our members for voting IU Credit Union as the Herald-Times Readers' Choice "Best Bank/Credit Union" in 2018 for a record eleventh year. Additionally, we were recognized by the Bloomington Economic Development Corporation as a top employer through its Best Work Places Bloomington Awards.
IU Credit Union achieved impressive financial results in 2018. Retail loan balances increased a record $68 million, or 13.5%. We remained the leader in real estate lending, closing the highest number and amount of mortgages in Monroe County. Business loan balances increased a record $29 million. Combined, these results produced record loan growth of $98 million with total balances increasing to $801 million. Our loan to share ratio was 94.3% — the highest in our history.
Total share balances increased $43 million. Net income in 2018 was a record $12.4 million.
Total assets increased $54 million, or 5.7%. Net worth, a key indicator of safety and soundness, surpassed $137 million, or 13.8% of total assets. IU Credit Union remains well-positioned for continued strong financial performance.
IU Credit Union Investment Services acquired a record $27 million in new investments and continues to serve as a trusted provider of professional and personalized investment services.
Serving our members, each other and our community reflects the heart of what we do every day and we will carry these principles forward in 2019. We will break ground on a new Operations Center; conduct a member survey; and continue our commitment to sustaining strong communities.
Since our founding in 1956, we have been led by outstanding volunteers who have served on our Board and Supervisory Committee. We thank you for your continued confidence in IU Credit Union and we look forward to serving you in the coming year.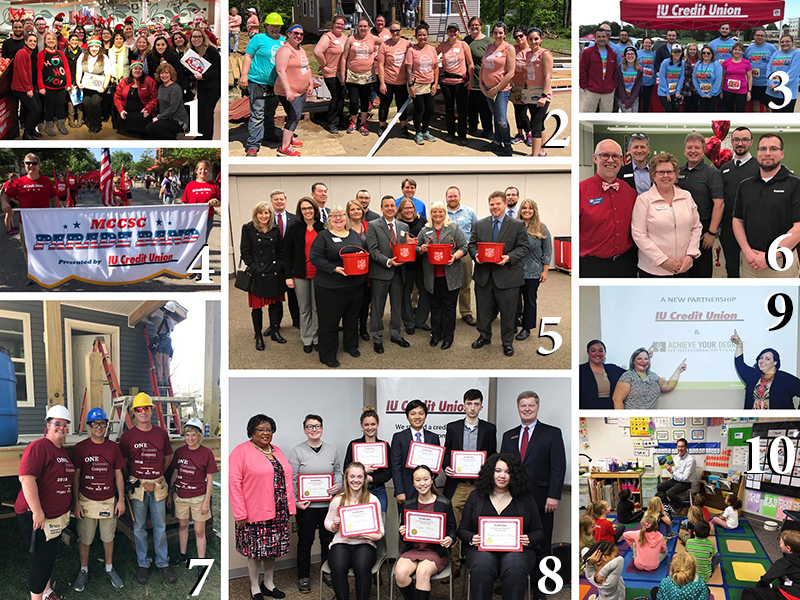 1. Our Member Service Support team makes a holiday donation to the Community Kitchen after their annual Supermarket Sweep competition; 2. IUCU employees participate in Habitat for Humanity of Monroe County's Women Build; 3. IUCU supports Hoosiers Outrun Cancer; 4. IUCU proudly sponsors the MCCSC High School Parade Band; 5. IUCU counts the cash that was collected in the Salvation Army Red Kettle Kick-Off Campaign; 6. IUCU supports the Boys & Girls Club of Ellettsville as a Big Heart Sponsor; 7. IUCU Senior Vice Presidents Chris Hawk, Julie Ragsdale and David Sipes joined IUCU employee Stefanie Rose to help complete her new home; 8. Former IUCU Board Chair, Doris Sims, and IUCU President & CEO, Bryan Price, honor our 2018-2019 Continuing Student scholarship recipients; 9. IUCU teams up with Ivy Tech to offer the Achieve your Degree program to IUCU employees; 10. IUCU CFO & Senior Vice President, Chris Hawk, reads to a class of kindergarten students as part of the The Foundation of Monroe County Schools' Real Men Read program.
Scholarship Recipients & Annual Meeting Highlights
The IU Credit Union would like to congratulate its Continuing Student Scholarship recipients.
Each year the IU Credit Union awards $20,000 in scholarships to continuing students at Indiana University and Ivy Tech Community College. The applications consist of three short answer and one essay question, which are then judged by outside committees. This year, three graduate students and four undergraduate students from IU as well as three Ivy Tech students received scholarships. The award presentation took place at the Annual Meeting on March 27th.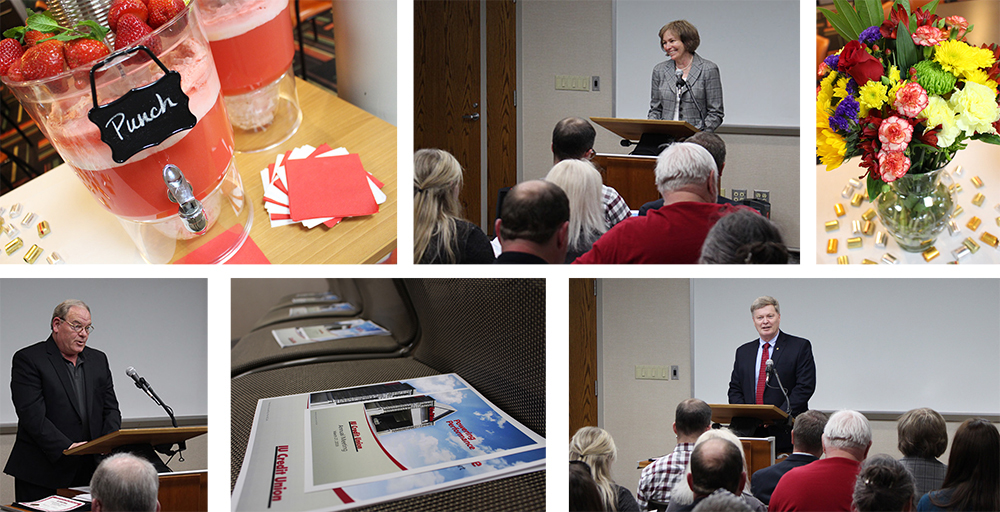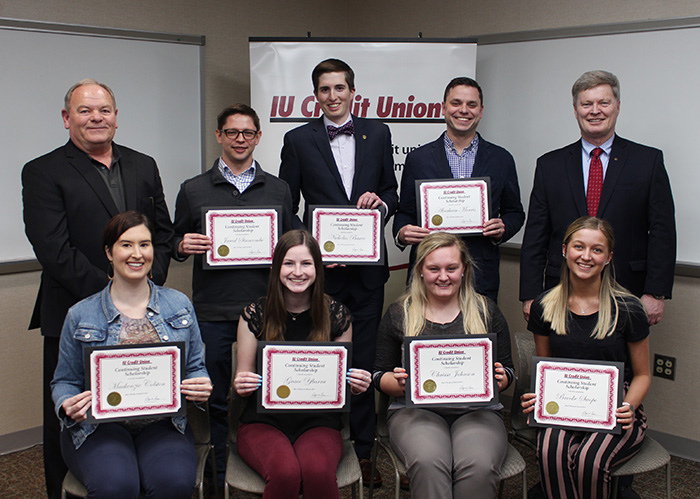 Back row, left to right: IUCU Board Chair, Larry Polley, Jared Stancombe, Nicholas Bauer, Abraham Morris, and IUCU President & CEO, Bryan Price.
Front row, left to right: Mackenzie Colston, Grace Ybarra, Chrissa Johnson, and Brooke Swope.
Not pictured: Anthony Ditzler, Trinity Langley, Scott Stillions, and Jennifer Thomas.
Indiana University
Graduate Full-time - $2,150 Award
Nicholas Bauer, Law School, Bloomington
Jared Stancombe, Cybersecurity Risk Management, Heltonville
Jennifer Thomas, Social Work, Bloomington
Graduate Part-time - $1,100 Award
Abraham Morris, MBA, Bloomington
Undergraduate Full-time - $2,150 Award
Anthony Ditzler, Human Resource Management & Counseling, Bloomington
Scott Stillions, Anthropology/TESOL, Bloomington
Brooke Swope, Elementary Special Education/Elementary General Education, Spencer
Grace Ybarra, Journalism/Spanish, Indianapolis
Ivy Tech Community College
Full-time - $1,700 Award
Chrissa Johnson, Nursing, Bloomington
Part-time - $850 Award
Mackenzie Colston, General Studies, Bloomington
Trinity Langley, Visual Communication/Photography, Columbus
Holiday Closings
All branches of the IU Credit Union will be closed Monday, May 27th in observance of Memorial Day.
All branches will be closed on Thursday, July 4th in observance of Independence Day.
Remember that your debit card, Online Banking and Mobile Banking are available 24/7. In addition, you have surcharge-free access to your account at thousands of ATMs nationwide in the CO-OP and Alliance One ATM networks.
$500 Mortgage Closing Credit

IUCU Now Offering FHA Loans
Are you having trouble saving enough money for a down payment on a home? We are proud to offer the low down payment mortgage option that could be the key to your dream of home ownership! Apply online today.
Spruce Up These 5 Areas of Your Home with Your Home's Equity
For many, the arrival of warm weather signals the beginning of home improvement projects. Don't have the extra cash for the supplies required to complete your projects? We can help! With an IU Credit Union home equity loan or line of credit, you can afford to jump into those spring fix-ups. Check out our suggestions for sprucing up your home!
1. Outdoor space — Build a Deck
Although the interior of your home is likely where you spend more time, fixing up the exterior can create a whole new living space for you and your family.
Whether you want a raised wood deck to give your guests a place to sit or a classy brick patio for lounging by the grill, a usable outside space can make a big difference in how you enjoy your home, and the charming visual addition will add to your home's value.
While this is a big project, it's also one with big rewards. If you don't know how to begin, searching Google or YouTube for a tutorial would be a great place to start. Once you have a plan, head to your local home improvement store to pick up supplies, and you'll be ready to start building!
2. Kitchen — Add a Splash of Color
Consider brightening your kitchen with a new color of paint! While white may be sufficient, a pale yellow or light grey can create a more interesting bright, clean space.
Then, choose a backsplash to install behind your sink that will pop against your new paint. While these are typically done in tile, there's nothing stopping you from looking at wood bead board, ceiling tile, or wallpaper. You could even turn them into a functional addition to your organization system with chalkboard, whiteboard, or magnetic film! There's no limit to what a backsplash can do for your home.
Finally, give your cabinets a facelift. Depending on the current condition of your cabinets, you can choose to give them a fresh coat of paint or replace them entirely. Switch out the hardware on them, then step back and check out your kitchen's new look!
3. Bedrooms — Create a New Outlook with New Windows
Installing new windows can seem like a daunting task, but they'll pay for themselves. Energy-efficient windows with new molding and stripping can significantly reduce your energy bills. Plus, having new windows and screens will make your home look well-cared-for if you ever decide to sell.
Do some research on energy-efficient two- and three-ply windows. Figure out which will fit your budget and hold long-term value. Just remember the general rule: you get what you pay for, and cheap windows likely won't conserve much energy.
4. Bathroom — Refresh with New Fixtures
Your faucets and knobs on your sink and shower/bathtub see a lot of abuse. They get touched by grimy hands, splashed by soapy water and can build up calcium and rust even if you're careful about washing them. Because they're usually metallic, they tend to draw a lot of eyes. Dull, streaky fixtures can suck all the energy out of your bathroom.
Replacing them, though, is pretty easy. Pick out sleek, modern fixtures that will save space. Whatever you do here, you'll end up with a nicer looking bathroom.
5. Living Room — Bring your Stuff Together with Built-In Storage
If your home is like most, it's chock-full of memorabilia and keepsakes. Tossed about the room, this can look cluttered and dingy. Instead, consider adding more built-in storage.
Whether you just want to hang a shelf over an entryway, put some coat hooks by the door, or build a bookshelf into a wall, built-in storage is a great way to display your treasured memories without shrinking a room with too much stuff. Installing it involves lumber, mounting tools and a few other gadgets. Again, head to the Internet to find tutorials.
If you need financing for your home improvements, IU Credit Union is ready to help. Call us at 812-855-7823 or stop by one of our branches to start your remodeling projects today!
IU Auditorium Presents: Finding Neverland
The magical musical, Finding Neverland comes to the IU Auditorium April 23 and 24 at 7:30 p.m. Playwright J.M. Barrie struggles to find inspiration until he meets four young brothers and their beautiful widowed mother. Spellbound by the boys' enchanting make-believe adventures, he sets out to write a play that will astound London theatergoers. With a little bit of pixie dust and a lot of faith, Barrie takes this monumental leap, leaving his old world behind for Neverland, where nothing is impossible and the wonder of childhood lasts forever. The magic of Barrie's classic tale springs spectacularly to life in this heartwarming theatrical event. Tickets start at only $17 for students and children and $29 for the general public, on sale now at IUauditorium.com.
IUCU Supports Girls Inc.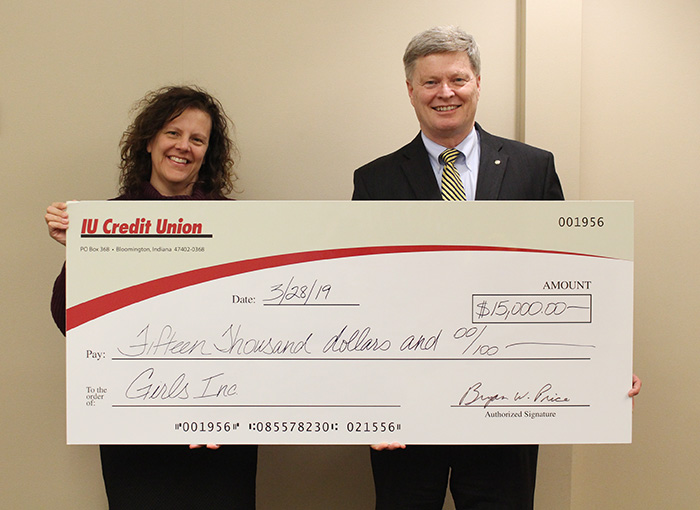 IUCU President & CEO, Bryan Price presented a $15,000 check to Girls Inc. of Monroe County Executive Director, Amy Stark to help build their transportation fleet. Look for Girls Inc. rolling on the streets in their new wheels soon. We are proud to help inspire Girls Inc. girls to be strong, smart, and bold!
April is Youth Month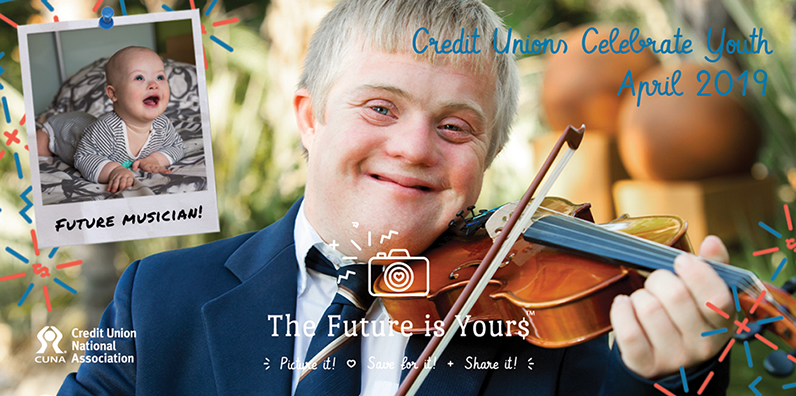 We often look at pictures to remember the past, but are you ready to picture the future?
For children and teenagers, the future brings limitless possibilities. Financial education from your credit union can be instrumental in helping them achieve their goals. This April, join us in celebrating National Credit Union Youth Month with the 2019 theme: "The future is yours... Picture it! Save for it! Share it!"
Together, we're encouraging young members to express themselves through photography, sharing their visions for their own financial future so we can help them get there. By staying true to credit union philosophy in an engaging new way, we can set our young members on the path to financial awareness and security.
If you haven't opened an account for your child, stop by a branch today!
Lemonade Day
Lemonade Day Monroe County is coming on Saturday, June 15, 2019!

IU Credit Union is proud to be a Community Sponsor of Lemonade Day Monroe County. Lemonade Day is a fun, experiential learning program that teaches area youth how to start, own and operate their own business. You may even see a lemonade stand at some of our IU Credit Union branches on Lemonade Day! For all the details on Lemonade Day Monroe County, visit their website at https://lemonadeday.org/monroe-county or on Facebook at facebook.com/lemonadedaymoco/.
Find us at the Greenwood Freedom Festival
IU Credit Union will once again participate in the annual Greenwood Freedom Festival. The event, to be held on Saturday, June 29th in Craig Park, will feature a Freedom Jam, parade, fireworks, food and booth vendors.
Stop by our booth so we can thank you for being a member!
Now is the Time to Start Saving at IUCU!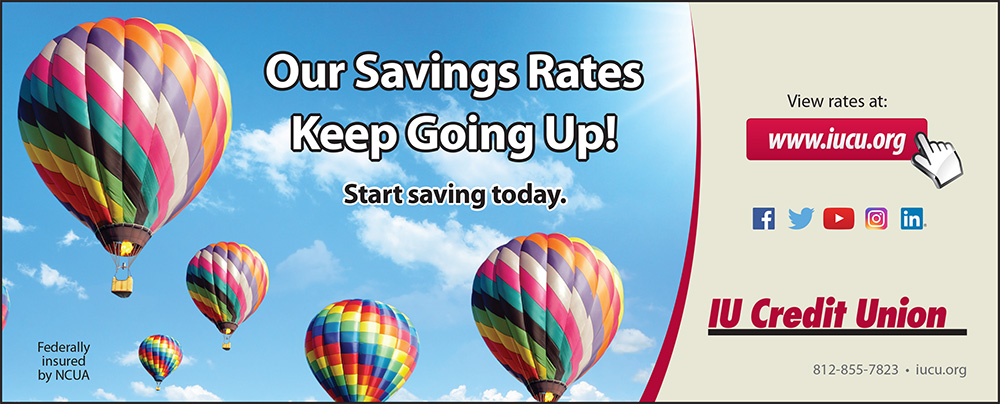 CU at the Fair!
IU Credit Union will be at the Monroe County Fair Saturday, June 29th through Sunday, July 7th. Chat with Credit Union employees and see what "fair" deals we can offer you!
Mark your calendar for the Johnson County Fair, running from Sunday, July 14th through Saturday, July 20th.
Fourth of July Parade Sponsorship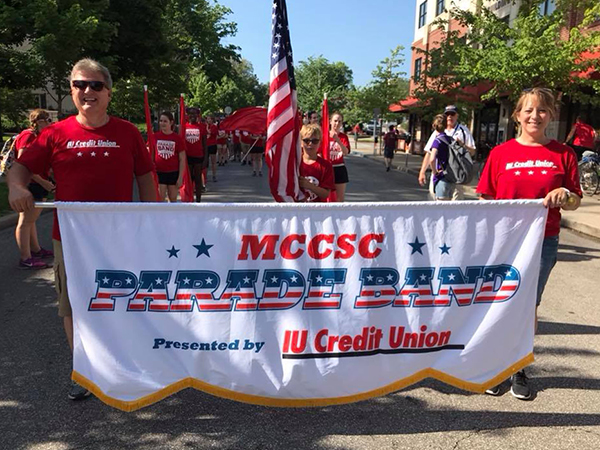 IU Credit Union is proud to sponsor the Community High School Parade Band. Each July 4th, students and alumni from Monroe County schools come together to march in the Bloomington Independence Day Parade decked out in IUCU colors. Thank you to all musicians, flag corps and directors who put their time and talent into making this event special!
Member Benefit: Discount Tickets to the Indianapolis Zoo
Spring has arrived and you may already be thinking about ways to enjoy the great outdoors. If the Indianapolis Zoo comes to mind, be sure to check out the discount ticket prices that are available to IU Credit Union members! It's now even easier with our customized discount page — no more group sales code, no more username and password. Enjoy flexibility and great prices!
Investment Services