Keep up with happenings at IU Credit Union.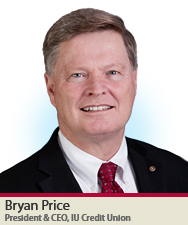 A Message from the President
As we look back on 2020, a year filled with uncertainties and disruptions associated with the COVID-19 pandemic, we are pleased to report IU Credit Union achieved a number of goals across a range of initiatives. Most importantly, we continued to serve our members and community throughout the unprecedented challenges of a global pandemic.
As an essential service provider, we quickly adapted our operations to ensure uninterrupted member service through branch drive-ups and by appointment in our branch lobbies. The health and safety of our members and employees is our top priority as evident in our social distancing measures, sanitization practices and installation of shield partitions at all branch locations. We are proud to have provided numerous financial relief options to members affected by the pandemic and continue to work with those facing financial hardships.
Despite the year's challenges, a number of accomplishments were achieved in 2020. Key accomplishments included opening our new operations center; completing a debit card conversion; enhancing email services within our Mobile Banking App; implementing real time account activity alerts; developing a strategy for future ATM services; and launching a new website.
IU Credit Union is an active partner in the communities we serve and we are proud to annually provide more than $250,000 in sponsorships and financial contributions. Through our scholarship program, we awarded nearly $30,000 in financial assistance to college students. Additionally, IU Credit Union and its employees contributed $40,000 to the local United Way Campaign. IU Credit Union donated an additional $5,000 to the United Way COVID-19 Emergency Relief Fund, in support of 16 nonprofit organizations serving the area's most vulnerable individuals.
We thank our members for voting IU Credit Union as "Best Bank/Credit Union" in the Herald-Times Best of Btown for the thirteenth year. Additionally, we were recognized by the Bloomington Economic Development Corporation as a top employer through its Best Places to Work in Bloomington Awards for the third year. For the first time, we were named one of the Best Places to Work in Indiana in the Indiana Chamber of Commerce's Best Places to Work in Indiana program.
IU Credit Union achieved impressive financial results in 2020. Total retail loan balances increased $12 million. We remained a leader in real estate lending and originated a record $136 million in fixed rate mortgage products. Total business loan balances increased $34 million, the largest dollar increase in the history of the Credit Union. Combined, these results produced loan growth of $46 million, with total loan balances increasing to $924 million. Total share balances increased a record $170 million. Net income in 2020 was $11 million.
Total assets increased $204 million, or 18%, to $1.4 billion. Net worth, a key indicator of safety and soundness, was $163 million, or 12% of total assets. IU Credit Union remains well-positioned for continued strong financial performance.
IU Credit Union Investment Services acquired $21 million in new investments and continues to serve as a trusted provider of professional and personalized investment services.
Serving our members, each other, and our community reflects the heart of what we do every day and we will carry these principles forward in 2021. We will implement changes to improve our indirect auto loan program; upgrade a number of ATMs; develop a strategy to improve our call center experience; launch Zelle in our Mobile Banking App; and continue our commitment to sustaining strong communities.
Since our founding in 1956, we have been led by outstanding volunteers who have served on our Board and Supervisory Committee. On behalf of our Board of Directors, we thank you for your continued confidence in IU Credit Union and we look forward to serving you in the coming year.
"IU Credit Union has continued to serve its members and community throughout the unprecedented challenges of the global pandemic."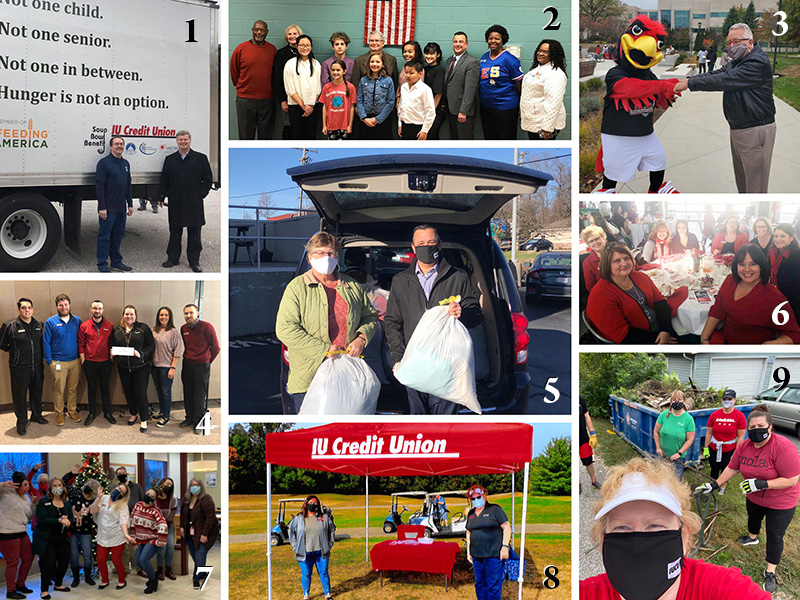 1. IUCU President & CEO, Bryan Price, joins Hoosier Hills Food Bank Executive Director & CEO, Julio Alonso, for the unveiling of the Food Bank's new service truck; 2. IUCU continued its long-standing support of the City of Bloomington's Black History Month Essay Contest by awarding an Apple iPad to each category first place recipient; 3. Gary Branch Manager, Doug Achterhof fist bumps Rufus the Redhawk during Philanthropy Week at IU Northwest; 4. IUCU supports Big Brothers Big Sisters' annual Bowl for Kids Sake campaign; 5. Monica Clemons, Social Services Director of The Salvation Army of Monroe County and the IUCU's David Sipes, Senior VP, Marketing & Business Development load one of several vans full of items donated by IUCU members for the Salvation Army's annual winter clothing drive; 6. IUCU sponsors the American Heart Association's Go Red For Women luncheon; 7. Ellettsville branch employees pose for their annual holiday photo; 8. IUCU VP, Sales & Service, Trish Ierino, and Ellettsville Branch Manager, Stephanie Warthan welcome golfers to the first tee box at the annual Greater Ellettsville Chamber of Commerce Golf Scramble; 9. Members of IUCU's Branch Management team volunteer for the local "Safe at Home" event, organized by the Area 10 Agency on Aging;
Scholarship Recipients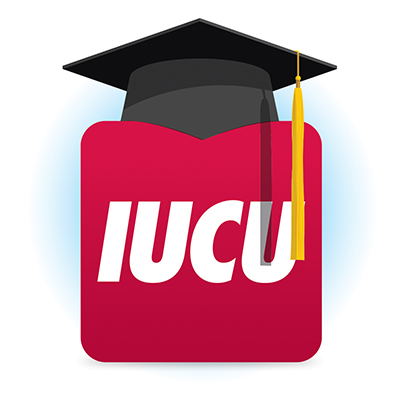 Each year, IU Credit Union awards a total of $20,000 in scholarships to IU Credit Union members who are continuing their education at Indiana University or Ivy Tech Community College, either full-time or part-time.
Indiana University 2021-2022
Graduate Full-time - $2,150 Award
Brynn Parkinson, Master of Social Work – Mental Health & Addictions, Bloomington
Karyn Housh, PhD Learning Sciences, Bloomington
Undergraduate Full-time - $2,150 Award
Audia Anders, Human Biology, Kokomo
Chloe Miller, Animal Behavior, Bloomington
Kaili Stedman, Elementary Education, Bloomington
Henry Ruff, Political Science/Physical Therapy, Bloomington
Ivy Tech Community College Spring 2021
Full-time - $850 Award
Crystal Cave, Pre-Nursing, Ellettsville
Adrienne Anderson, Social Work, Bedford
Maxwell Williams, Computer Science, Bloomington
Part-time - $450 Award
Mikayla Thompson, Psychology, Bloomington
Holiday Closings

All branches of the IU Credit Union will be closed Monday, May 31st in observance of Memorial Day.
All branches will be closed on Monday, July 5th in observance of Independence Day.
Remember that your debit card, Online Banking and Mobile Banking are available 24/7. In addition, you have surcharge-free access to your account at thousands of ATMs nationwide in the CO-OP and Alliance One ATM networks.
Fraud Alert: Beware of Caller ID Spoofing Scams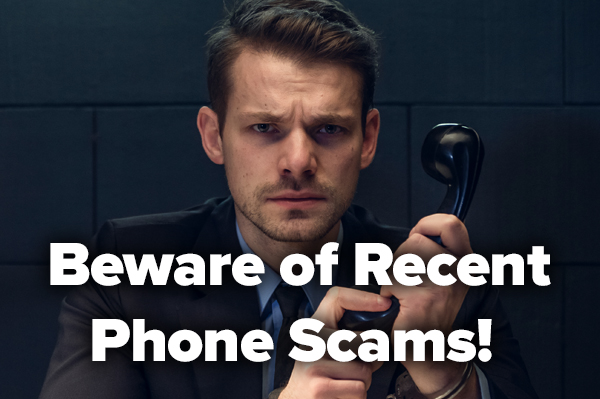 Caller ID Spoofing is on the rise and several members have already fallen victim to a scam. Please review this information so you can take precautions and avoid account takeover fraud.
What is Caller ID Spoofing?

Caller ID Spoofing is when a caller deliberately falsifies the information transmitted to your caller ID display to disguise their identity. The number appears on your caller ID to be from a company, government agency or someone else you trust, even IUCU. Once you answer, fraudsters will attempt to get your personal financial information.
Don't rely on your Caller ID; it can be faked or spoofed. If you receive an unexpected call from IU Credit Union and are asked to share personal information; if you did not initiate the call and/or if you are in doubt or feel suspicious at any time, please hang up and call the phone number listed on your account statement, Online Banking or Mobile Banking app, to ensure that you are speaking to us. If a fraud detection service calls you, they do not need passcodes or text confirmations to block your card and they do not need your Online Banking username and/or password to block your debit card. These precautions apply to any unexpected call you receive from a company or government agency asking you for personal information. Empower yourself to keep your accounts and identity safe.
What is Account Takeover Fraud?
Account takeover fraud happens when a fraudster gains access to an account that does not belong to them, then changes information such as login credentials or personal information and proceeds to make unauthorized transactions and withdrawals on that account.
Often the actual owner of the account shares enough information with the fraudster, such as their Online Banking username, password, One-Time Passcodes for services such as Online Banking, Mobile Wallet, Zelle, etc. to allow the fraudster to gain access.
Sometimes this information is shared inadvertently to fraudsters pretending to be from a legitimate organization; other times account owners share their personal financial information with someone they thought they could trust.
• If you answer a phone call and the caller, or a recording, asks you to hit a button to stop getting the calls, you should just hang up. Scammers often use this trick to identify potential targets.
• Never give out personal information such as account numbers, Social Security numbers, usernames, mother's maiden names, passwords or other identifying information in response to unexpected calls or if you are at all suspicious. Also avoid sharing this information with family members or friends who are not joint on your account.
• If you get an inquiry from someone who says they represent a company or a government agency, hang up and call the phone number on your account statement, in the phone book, or on the company or government agency's website to verify the authenticity of the request. You will usually get a written statement in the mail before you get a phone call from a legitimate source, particularly if the caller is asking for a payment.
• Use caution if you are being pressured for information immediately.
• Always be vigilant with your personal financial information. Learn more.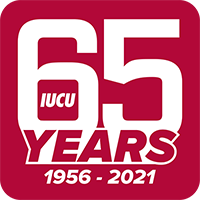 IUCU Celebrates 65 Years
We celebrated our 65th anniversary in February. IU Credit Union was founded in 1956 on the campus of Indiana University Bloomington. A small group of university employees pooled their money together and established a financial cooperative - owned, operated and governed by its members. Click here to learn more about the history of IUCU.
April is Youth Month — And We're Giving Away Money!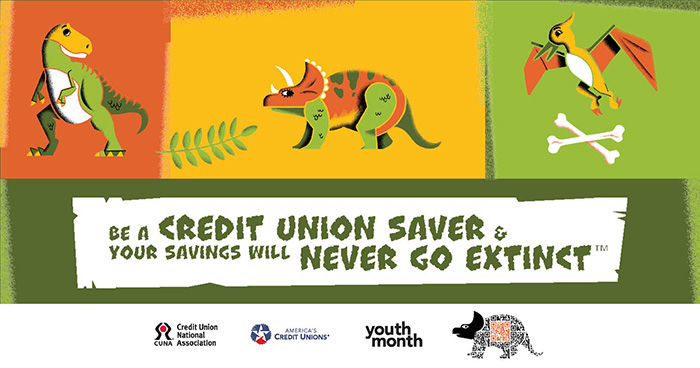 Every April, National Credit Union Youth Month serves to encourage kids to develop healthy saving habits by making savings fun and exciting. Providing financial education embodies the credit union movement's 'people-helping-people' philosophy. The theme for this year's Youth Month is "Be a Credit Union Saver and Your Savings Will Never Go Extinct."
To celebrate our youth, we're giving away three $75 gift cards to our M3 Money Club and Elements of Money members*, one in each age group listed below:
Coloring contest for ages 6 and under:
Print and color the page below. (Click here to download a PDF)
Write your name and age at the top of the page.
Have an adult take a picture of your page, find IU Credit Union on Facebook or Instagram and send us a message with the picture or email it to Marketing@iucu.org.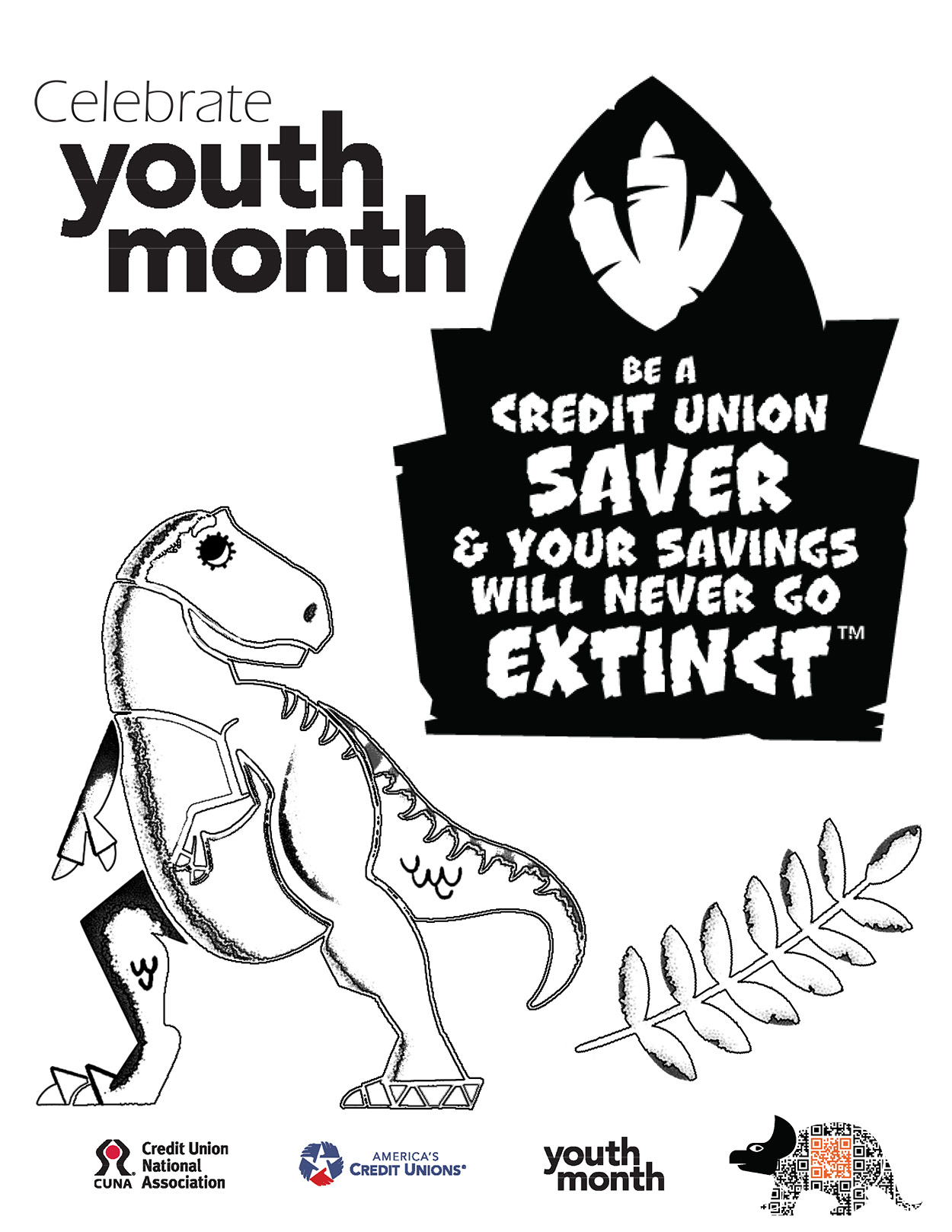 Art contest for ages 6 to 12 years old:
Create your own masterpiece with crayons, paint, fabric, clay, or any medium of your choice and illustrate this year's theme of "Be a Credit Union Saver and Your Savings Will Never Go Extinct."
Have an adult take a picture of your artwork (include your name and age somewhere in the photo), and submit it to us by finding IU Credit Union on Facebook or Instagram and sending it in a message or emailing it to Marketing@iucu.org.
Video contest for youth members 13 to 18 years old:
Record a one-minute (or shorter) video clip answering the question, "Why is it important to always have money in a savings account?"
Either you or an adult may submit your video by finding IU Credit Union on Facebook or Instagram and sending it in a message. Be sure to include your name and age in the message.
Essay contest for youth 13 to 18 years old:
Write a 300-word (or less) essay, answering the question, "Why is it important to always have money in a savings account?"
Either you or an adult may submit your essay by finding IU Credit Union on Facebook or Instagram and sending it in a message. Be sure to include your first name and age in the message.
*Entrants must have an IU Credit Union account with their name on it and may only enter in one category. We will verify winners information. Deadline for entries is midnight, April 30. Gift card winners will be announced on our Facebook and Instagram pages on Monday, May 3.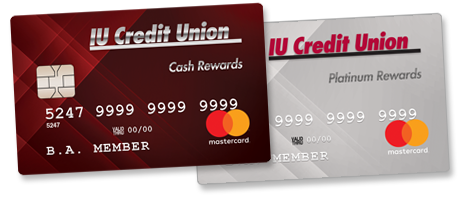 Announcing a New Introductory Rate Offer: Get a 1.99% APR Introductory Rate on Purchases and Balance Transfers with Any New Platinum or Cash Rewards Credit Card!
Open a new IU Credit Union Mastercard Platinum or Cash Rewards Credit Card and receive an Introductory 1.99% APR* on purchases for 12 months and 1.99% APR on Balance Transfers for 12 months. Plus, earn 3X Rewards Points in select categories throughout the year! After the introductory period, you'll continue to save with a low variable rate.
*Introductory Rate of 1.99% is applicable on purchases for 12 months from the card open date and on Balance Transfers for 12 months from the first qualified balance transfer completed within 12 months from the card open date. After that, the rate will be between 9.25% - 19.25% on Platinum Rewards Cards and 12.25% - 22.25% on Cash Rewards Cards and will vary with the market based on the Prime Rate. Rate range stated is accurate as of 3/11/2021 and is subject to change at any time. Subject to credit approval. Offer not applicable on Business or Secured Cards.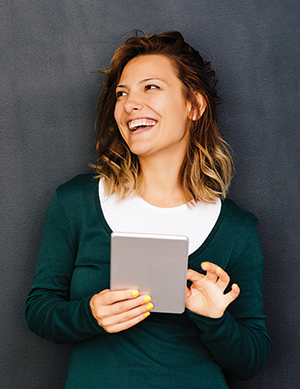 Send and Receive Money with Zelle® - Now Available within Online and Mobile Banking
Zelle® is a convenient way to send money right from your mobile banking app or online banking account. Whether it's saving you a trip to the ATM or taking out the guesswork of divvying up the cost of the lunch tab, Zelle is a fast, safe and easy way to send and request money with friends, family and others you trust. Money is sent directly to the recipient's account and is typically available in minutes.
Learn more about Zelle® at IUCU.org.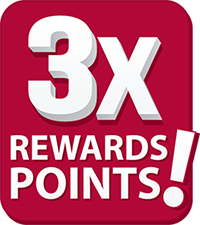 Attention Credit Cardholders: Bonus Points Opportunities
3X Rewards Points!
Earn 3X rewards points when you use your IU Credit Union Mastercard Cash Rewards or Platinum Rewards Credit Card on home, lawn and garden purchases through June. Visit our credit card page at iucu.org for a complete list of merchant categories.
Member Benefit: Discount Tickets to the Indianapolis Zoo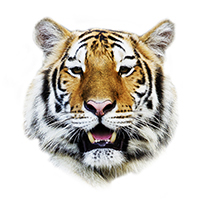 Spring has arrived and you may already be thinking about ways to enjoy the great outdoors. If the Indianapolis Zoo comes to mind, be sure to check out the discount ticket prices that are available to IU Credit Union members! It's easy with IU Credit Union's customized discount page—Enjoy flexibility and great prices!
Investment Services