Keep up with happenings at IU Credit Union.
$30,000 in Scholarships Available

IU Credit Union is offering scholarship opportunities to high school seniors and continuing Indiana University and Ivy Tech students. Applications can be found on our Scholarships page.
High School Scholarships
Up to $10,000 in High School scholarships are available for graduating seniors who intend to enroll full time at an accredited university or college. The amount of the scholarship is $1,000, which is split between the two upcoming semesters. High School applications must be postmarked by April 3, 2021.
Scholarships are available to graduating students from Bloomington North, Bloomington South, Center Grove, Edgewood, Eastern Greene, Greenwood, The Academy of Science & Entrepreneurship and Owen Valley.
Two scholarships are also available to members who attend a high school other than one of the aforementioned.
Continuing Student Scholarships
Up to $20,000 in Continuing Student scholarships are available for members planning to attend any Indiana University or Ivy Tech Community College campus as either full-time or part-time students. Award amounts are based on student status and the school that will be attended. Applications must be postmarked by February 6, 2021.
Click here to learn more about our scholarship program »
Closed MLK, Jr. Day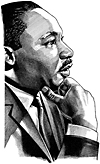 All branches will be closed Monday, January 18 in observance of Martin Luther King, Jr. Day.
Online Banking, Mobile Banking and Bank-by-Phone are available 24/7. Plus, you have surcharge-free access to your account at thousands of ATMs nationwide in the Alliance One and CO-OP ATM networks.
Board and Supervisory Committee Nominations
The IU Credit Union Nominating Committee has selected candidates for four open Board positions and one open Supervisory Committee position to be filled this spring. Nominees for the Board are Kim Milford, Neil Powell, Doris Sims, and Veda Walcott. The nominee for the Supervisory Committee is Tina Sherrard.
IU Credit Union members can file a petition to be included on the election ballot for the Board of Directors or Supervisory Committee. To qualify, request the appropriate petition from any branch, obtain 500 member signatures, and return the petition to any branch by January 12, 2021. If no petitions are received by the due date, the Nominating Committee's candidates will be appointed.
Election results will be announced at the Annual Meeting, to be held virtually on Wednesday, March 31 at 5:30 p.m.
Members of the Board of Directors establish the strategic direction of the Credit Union, provide oversight of progress toward the organization's goals, and carry out fiduciary responsibilities customarily performed in accordance with federal and state regulations.
The primary objective of the Supervisory Committee is to determine that members' assets are adequately safeguarded. Members of the Board and Supervisory Committee volunteer their time to the Credit Union.
Board Nominees

Kim Milford has served on the IU Credit Union Board since 2018. She is the Executive Director of the Research and Education Networking Information Sharing and Analysis Center (REN-ISAC) at Indiana University. In addition to her role at IU, Milford speaks on cybersecurity, information policy and privacy expertise at national conferences, seminars and workshops. She has served in several different roles since joining IU in 2007, including Chief Privacy Officer. Milford has also served as the Information Security Officer at the University of Rochester, and Information Security Manager at the University of Wisconsin-Madison. She received a B.A. in accounting from Saint Louis University and a J.D. from John Marshall Law School

Neil Powell is a Lecturer and Strategic Finance Academy Director at Indiana University's Kelley School of Business. He has more than 25 years of corporate finance experience, having served in a number of roles in the high-tech industry. He previously served as Corporate Controller, VP with Lattice Semiconductor, Director of Finance with Intel Corporation, and Examiner with Federal Deposit Insurance Corporation (FDIC). Powell received his master's degree from IU's Kelley School of Business. He also serves on the New Hope for Families Board of Directors.

Doris Sims previously served on the IU Credit Union Board of Directors from 2011 – 2020, and as Chair of the Board in 2017. She is the Director of Housing and Neighborhood Development with the City of Bloomington. She received both her bachelor's and master's degrees from Indiana University's School of Public and Environmental Affairs. Sims has served as Human Resources Director with the City of Bloomington, Training Coordinator with Ivy Tech Community College and Region 10 Director with the Indiana Department of Commerce. Sims has served on various community boards, including Bloomington Housing Authority, Planned Parenthood of Indiana and Kentucky, Monroe County Sheriff Merit Board and the Monroe County Branch of the NAACP.

Veda Walcott is the Vice President of Global Regulatory Affairs & Compliance with Catalent Pharma Solutions where she is responsible for corporate quality system policy, information technology, compliance and regulatory affairs support for a broad product portfolio across Catalent's global network. With over 20 years of experience in the Biopharmaceutical industry, she previously served as Vice President of Quality and Regulatory Affairs for Catalent Indiana, LLC (formerly Cook Pharmica) and Quality Control Microbiology Supervisor for Baxter BioPharma. Walcott started her career as a Medical Technologist for Bloomington Hospital. She holds a bachelor's degree from Indiana State University in Clinical Laboratory Science, as well as a MBA from Indiana Wesleyan University.

Supervisory Committee Nominees

Tina Sherrard is the Department Chair of Accounting and an Associate Professor at Ivy Tech Community College Bloomington. She received her bachelor's degree from Indiana University and her master's degree from University of Phoenix. Sherrard has worked with various organizations from the private and public sectors in the role of Management and of Director of Business and Financial Services in Retail Management. She also serves as the Site Coordinator for Volunteer Income Tax Assistance (VITA).

You're Invited to our Annual Meeting
This year's Annual Meeting will take place virtually over Zoom on Wednesday, March 31 at 5:30 p.m. We will post information on our website about attending the virtual meeting by March 1.
Important Tax Information
Tax statements for 2020 will be mailed by the date listed for each form. PLEASE NOTE: If you are enrolled in eStatements, be sure to check your eStatements & Notices tab in Online Banking for the following forms.
• Form 1099-INT (Dividend Income)
In most cases, IU Credit Union will issue 1099-INTs by Social Security number instead of account number. For example, if you have two different account numbers with the same Social Security number, you will only receive one 1099-INT reflecting the total dividends earned for both accounts. This form will be mailed by January 31, 2021.
You will only receive a 1099-INT if your total dividends earned in 2020 are at least $10.00.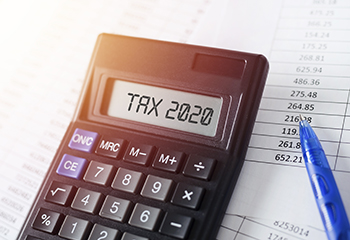 • Form 1098 (Mortgage Interest Statement)
You will receive a separate 1098 for each mortgage loan at the IU Credit Union. This form will be mailed by January 31, 2021. You can also access the form in myMortgageInfo beginning on January 3, 2021.
If the IU Credit Union pays your real estate taxes, the total amount paid in 2019 will appear on the 1098.
• Form 1042-S (Foreign Person's U.S. Source Income Subject to Withholding)
This is the form for certain nonresident alien individuals, used to report $10.00 or more in dividend income. The 1042-S form will be mailed by March 15, 2021.
The following IRA forms will be mailed. These will not be available in the eStatements & Notices tab in Online Banking:
• IRA FMV Statement (Fair Market Value)
This is an annual statement showing the December 31, 2020 balance of your IRA/ESA account. This information will be sent as a separate form. If you are 70 1/2 or older, your RMD (Required Minimum Distribution) will also be listed on this form. This form will be mailed by January 31, 2021.

• Form 1099-R (Distributions from IRAs)
A separate form will be mailed for each IRA plan held at the IU Credit Union. This form will be mailed by January 31, 2021.
Each form sent will show the total distribution amount for 2020 from the IRA, regardless of whether the distribution is taxable.
• Form 1099-Q (Distributions from Coverdell Education Savings Accounts—ESAs)
A separate form will be mailed for each ESA plan held at the IU Credit Union. This form will be mailed by January 31, 2021.
This form will show the total distribution amount for 2019 from the ESA, including rollover and transfer distributions.
• Form 5498 (IRA/ESA Contribution Information)
Form 5498 for Traditional IRAs and Roth IRAs will be mailed by May 31, 2021 due to the later (Apr. 15) contribution deadline.
Form 5498 for Coverdell ESAs will be mailed by April 30, 2021.
Branch Manager Positions
Colby Babbs, 17th Street Branch Manager
We are pleased to announce the promotion of Colby Babbs to 17th Street Branch Manager. Babbs has worked for IU Credit Union since 2011 and has served in several leadership positions, including Branch Supervisor and most recently, Winslow Assistant Branch Manager.
Mandee Weissert, Ellettsville Branch Manager
Join us in welcoming Mandee Weissert as the new Ellettsville Branch Manager. Weissert has worked for IU Credit Union since 2006 and has served in several leadership positions, including Branch Supervisor, Contact Center Team Lead, Eastland Assistant Branch Manager, and most recently, 17th Street Branch Manager. Weissert has represented IU Credit Union in the Habitat for Humanity Women's Build as well as at various Stone Belt events.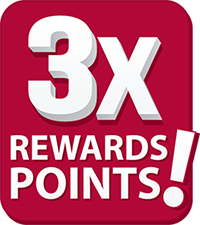 Attention Credit Cardholders: Bonus Points Opportunities
3X Rewards Points!
Earn 3X rewards points when you use your IU Credit Union Mastercard Cash Rewards or Platinum Rewards Credit Card on entertainment purchases through March. Visit our credit card page at iucu.org for a complete list of merchant categories.
Coming Soon – Zelle
Zelle® is a convenient way to send money right from your mobile banking app or online banking account, and it's coming soon to IUCU! Whether it's saving you a trip to the ATM or taking out the guesswork of divvying up the cost of the lunch tab, Zelle is a fast, safe and easy way to send and request money with friends, family and others you trust. Money is sent directly to the recipient's account and is typically available in minutes. More details will be coming soon! Check iucu.org or our Facebook page to know when Zelle is available directly through your IUCU accounts.
Investment Services